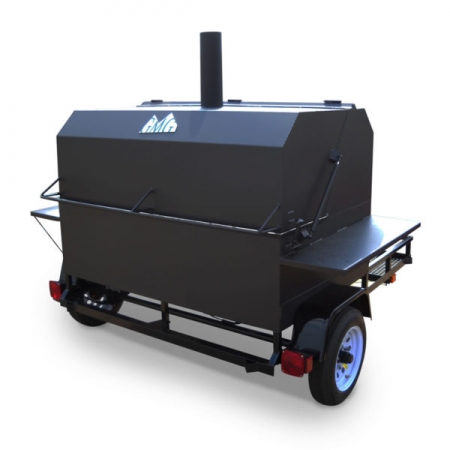 Whether you cater, barbecue competitively, or just throw huge parties, this is the right rig for you! Temperature adjusts from 150°-500° for long, slow cooks, roasting, baking, or grilling. Completely self-contained (with available options), this grill will cook for 24-30 hours at 225°.
Trailer is less than 7' wide, so you can get into even the tightest places. Available canopy extends 3' beyond the sides to keep you dry on rainy days. Cook 40 chickens or 150 hamburgers or 20 briskets at one time! This grill includes 3'x5' 2-burner grill, fully insulated with 2700° insulation, 12' trailer, ball hitch, E-Z open lid, Stainless steel split grates, plywood deck, 50-lb. hopper, adjustable temp 150°-500°, and powder-coated with high temperature paint.
Available options include: a 900-watt Inverter (runs grills from batteries), twin 6-volt deep cycle 235 amp-hour batteries, battery charger, retractable extension cord (to plug in remotely), cooler, spare Daniel Boone grill mounted on trailer, tool box (locking storage), spare tire, table, canopy (HD waterproof canvas on gabled roof), cook's floor (for wet ground), and lights.