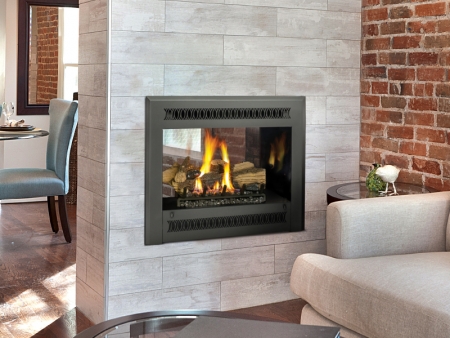 A home is a combination of dreams and choices, each a reflection of you. From the most intimate engraved details on a fireplace face to the grandest of fires, our fireplaces bring a sense of tranquility to your home.
The 864 See-Thru gas fireplace continues this tradition by allowing you to bring fire to two rooms and to give each side a completely different look. You can choose from 18 different face designs and style in a wide variety of colors and finishes.
The 864 ST maintains a perfect balance between the firebox, logs and flames. The logs and fire have been carefully designed to give you different look from either side. Compare the amazingly realistic eight piece logset with any other see-thru fireplace on the market! Combined with the unique two-stage stepped burner, the 864 ST See-Thru fireplace will give you a warm, yellow fire with glowing embers that your friends and family will have a hard time telling apart from a real wood fire.
Additional Info
Brand:

Fireplacextrordinair

Type:

Fireplace

Fuel:

Gas

Heating Capacity:

1,500 Sq. Feet

Maximum BTU Input:

37,500 BTU's

Overall Efficiency:

76.4% (NG) 77.5% (LP)

AFUE:

64% (NG) 65% (LP)

Fan:

Optional

Glass Size:

1728

Venting:

Top or Rear Vent

Weight:

275 Lbs.

Burner System:

Dual