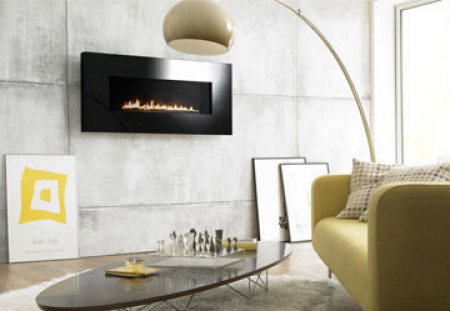 X-Fires
The X-FIRES™ Widescreen and 1000 catalytic vent-free fireplaces from the Dave Lennox Signature™ Collection reflect the ultimate in innovation and efficiency. The inherent beauty of natural stone meets revolutionary vent-free technology to provide a luxurious real gas fire that can be installed almost anywhere. Ideal for contemporary living spaces, high rises, lofts or any space where venting cannot be installed, the slim and modern design makes installation as easy as hanging a picture on a wall. They're less than nine inches deep!
Crestline
Gorgeous, roaring fires are the finished masterpieces provided by Dave Lennox Signature™ Collection Crestline™ gas fireplaces. The spacious, 28" -tall opening creates one of the largest open hearth B-vent fireplaces on the market for outstanding, unobstructed views of the fire. Adding to the authentic fireplace look and feel are the herringbone or traditional brick pattern designs and substantial campfire-style logs create a timeless beauty that is attractive on or off. In addition, optional bi-fold doors and screen panel kits allow for personal customization
Spectra
From the exquisite arched cast-iron facing to the striking brickaded firebox interior, the Spectra™ line of gas fireplaces defines luxurious comfort with the Lennox Total Comfort Control System and a standard six-speed blower that allows you to set the flame height, heat output, and other functions.The Spectra is spectacular! Exclusive Spectra flame tiered burner with charred Spilt Oak logs and glowing embers delivers a stunning, elegant fire presentation. Full depth brickaded firebox offers a brick look and custom masonry realism.
Ravelle
The Ravelle™ fireplace balances elegant design with unmatched flexibility. Warm, dancing flames and realistic logs - cast from real burned wood – create a spectacular setting. Available in 30,000 or 42,000 BTUs, the Ravelle is able to meet demanding heating needs. And a variety of finishes and insets allow you to customize your fireplace to fit your unique home and lifestyle.
Montebello See Through
With its expansive two-sided opening and stunningly realistic fire presentation, the Montebello® See-Through provides a harmonious flow from one space to another, inside or outside the home. The Montebello See-Through is available in a 40\\\" size, and comes standard with high-definition logs, ceramic ember bed burner, log grate, wire mesh pull screens and the Lennox Total Comfort Control™ System.Dramatic louverless construction gives the fireplace a clean, traditional masonry look and provides the ability to finish right up to the opening.
Montebello
Imagine having the convenience of gas with the classic beauty of a real masonry-built fireplace. The Montebello® gas fireplace allows you to have both. Its clean-face design is smooth and elegant, reminiscent of a classic masonry fireplace. The instant convenience of Lennox™ gas technology gives you total control of your fireplace and its heat output. Plus, the Montebello is available in two sizes with an array of premium accessories to give you the freedom to create the fireplace that fits your style and your home.
Additional Info
Brand:

Lennox

Type:

Fireplace

Fuel:

Electric